National Lutheran School Accreditation (NLSA) encourages, assists, and recognizes schools that provide quality Christian education and engage in continuous improvement. During the 2013-14 school year Messiah underwent an extensive self-study process involving nearly 70 volunteers and staff members. This self-study culminated on April 29-30, 2014, with an official site visit by NLSA. Application for accreditation is required every five years.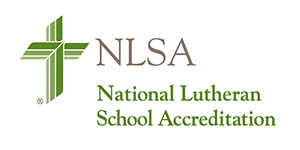 Key Elements of NLSA Accreditation:
Assessment of Standards and indicators
Self-Assessment – Self Study Process
Visiting team assessment
NLSA uses a BALANCED, PERFORMANCE BASED process that examines multiple facets of the organization and how they work together to produce results
The Visiting Team
Is comprised of professional peers with diverse experience and rich contextual perspective
Assesses and evaluates the school's effectiveness in meeting the requirements of accreditation
Provides important validation and recognition
Delivers valuable feedback and suggestions for related ongoing improvement
Standards categories evaluated during accreditation process
Relationships
Leadership
Professional Personnel
Teaching & Learning
Student Services
Facilities
How the visit team conducts its work:
Reviewed the self study document and related documentation provided by the school
Listened to Building Presentations
Interviewed School Stakeholders
Examined Evidence presented by the school
Visited Classrooms
Observed Practices and Learning Environment
Collected and Organized Data
Engaged in deliberations
During the team's two-day site visit the visit team:
Conducted approximately 273 interviews with stakeholders: students, parents, teachers, administrators
Conducted 38 separate classroom observations
Identified 8 outstanding strengths
Identified 0 major deficiencies
Outstanding Strengths identified by the 2014 NLSA Visit Team:
Faith development is evident in teaching and modeling.
The school climate provides a welcoming, loving atmosphere with a sense of family.
The exemplary cleanliness, care, and décor provides a welcoming and impressive atmosphere.
The Food Service provides an outstanding variety of healthy foods and promotes healthy lifestyle choices.
Mr. Stueber's visionary leadership provides a consistent focus on both internal and external ministry.
Dedicated teachers are well educated and equipped to lovingly nurture their students both academically and spiritually.
The school is mission-minded providing the students and families opportunities to witness and inspire them to grow and serve together.
The Preschool program is a great way to introduce families to the ministry of Messiah.
Messiah embraces the power of Christ-centered education.